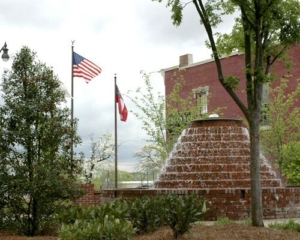 From its picturesque placement in the foothills of the Appalachian Piedmont and along the banks of the Chattahoochee River, Douglas County invites residents and visitors alike to "Explore Outside the Lines." Its 8,000 acres of recreational destinations include Boundary Waters Park, Clinton Nature Preserve, Sweetwater Creek State Conservation Park, Pine Mountain Gold Museum and more. Just 30 minutes west of Atlanta, all of the amenities of the city are easily accessible without all the crowds – making Douglas County an attractive place to live for those who love being in nature with close proximity to a large city. As an added bonus, it's just one exit away from Six Flags Over Georgia..
Douglasville, GA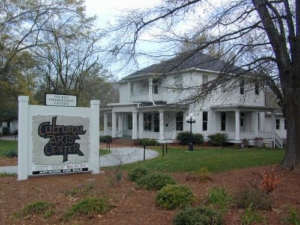 History
Located at a natural rise in the topography, Douglasville was originally known as Skint Chestnut. The name derived from a large tree used by Indians as a landmark, which was stripped of its bark so as to be more conspicuous.
The Town of Douglasville was established by the Georgia General Assembly on February 25, 1875. The boundaries were as follows: The center shall be a point directly opposite the court house in said town, on the Georgia Western Railroad, thence running along the center of said road each way three-fourths of a mile, and extending one half mile each way from the center of said road, the form of said territory to be an oblong square.
An election was held on the first Saturday in March, 1875, and a mayor, treasurer, records (secretary), and marshal were chosen. Thus began the official history of Douglasville, today one of the most attractive, historic parts of the Atlanta metro area. As you might suspect, however, the real stories and history extend back much earlier than 1875.
Douglasville
Douglasville is a unique blend of small-town charm coupled with metropolitan amenities. The central business district is listed on the National Register of Historic Places as an historic district. The town of Douglasville was established by the Georgia General Assembly on February 25, 1875. The city of Douglasville is 20 miles from downtown Atlanta and just 10 minutes west of Six Flags Over Georgia. The Douglas County Cultural Arts Center holds art shows as well as special events throughout the year and hosts events for schools across the county. Median household income is $48,000. The city is 21.5 square miles
Business Climate
Douglasville enjoys an excellent business climate as evidenced by its tremendous growth in a variety of business sectors. The City maintains a competitive property tax rate, has developed a streamlined and fast track permitting process, and demonstrated a willingness to provide aggressive incentives for quality new and expanding business ventures.
Douglasville is home to a number of outstanding companies including the American Red Cross' Southeast Blood Processing Center and Headquarters, WellStar Health Services, Benton Georgia, Staples and A.L.P. Lighting. Nearby companies with sizable operations in the Douglasville area include Google, Pepsico, PriceWaterhouseCoopers, Silverline Building Products and Turano Baking.
Being part of Metro Atlanta allows Douglasville businesses easy access to a number of internationally acclaimed support services such as the Georgia Institute of Technology, Emory University and Hospital, and the Centers for Disease Control and Prevention.
Douglasville Attractions
Arbor Place Mall
Arbor Place Mall is the largest indoor shopping venue west of Atlanta with 1.3 million square feet of shopping and dining. See one of Hollywood's latest movies with over 20 theatres from which to choose. There is also an automobile-themed indoor playground by the food court.
Cultural Arts Center
The Douglasville Cultural Arts Center is housed in a lovely nineteenth-century Greek Revival home. It houses performing arts, festivals, visual arts exhibits, arts education classes and workshops and more.
Le Jardin Blanc
Le Jardin Blanc is a full service facility hosting weddings, receptions, garden parties, corporate meetings, bridal shows, teas, baby showers, croquet play, proms, garden club luncheons and more.
Sweetwater Creek State Park
Sweetwater Creek State Park is one of the most visited State parks in Georgia, covering 2,000 acres. It contains four marked nature trails totaling over 9 miles, canoe rental, fishing boats, group shelter, barbeque pit, picnic shelters and playgrounds. The ruins of the Civil War-era New Manchester mill are also in the park.
West Pines Golf Course
West Pines is one of Atlanta's most affordable golf courses. It is a daily fee public golf course that offers private-club quality. 18 holes; 6,832 yards; par-71. Practice green and driving range.
Old Douglas County Courthouse
The Old Douglas County Courthouse was constructed in 1956, and was used until 1998 as the County government headquarters. It is now home to the Douglas County Museum of History and Art which includes permanent and unique changing exhibits of mid-20th century Americana reflecting the Era of the Old Courthouse.
Hunter Park
Hunter Memorial Park is named for 1st Lt. Robert Gerald "Jerry" Hunter, a brave U.S. Air Force Pilot who in 1966 became Douglas County's first casualty in the Vietnam War. While at the park, take a ride on the mini-train or walk the paved 1/3 miles level path.
Villa Rica
www.villarica.org
(770) 459-7000
Villa Rica is located only 35 miles from the City of Atlanta, and it is right off Interstate 20. Two famous people call Villa Rica home: Asa Candler, the founder of Coca-Cola, and Thomas A. Dorsey, the Gospel Music founder. The first Gold Strike in Georgia took place in Villa Rica, and the Pine Mountain Gold Museum allows visitors to walk along the same trails where the miners walked, pan for gold, and see the museum. Historic Downtown Villa Rica is filled with authentic architecture as well as unique shops and restaurants. Downtown Villa Rica also has many professional offices, including dentists, insurance agents, accountants, and stockbrokers.
County Seat
Douglasville
County Population
145,814
Millage Rates (uninc.)
12.563
Median Home Price
$326,500
Median Household Income
$67,651
Municipalities
Douglasville and Lithia Springs
DOUGLAS COUNTY OFFICES
Main Contact Information
www.co.douglas.ga.us
(770) 949-2000
All Emergencies
911
Animal Control
(770) 942-5961
Business License
(770) 920-7348
Douglas County Tax Commissioner
Todd Cowan
(770) 920-7272
County Extension Office
(770) 920-7224
Driver's License
(404) 657-9300
Fire and Emergency Services
(770) 942-8626
Planning and Zoning
(770) 920-7241
Sherriff's Office
(770) 942-2121
Voter Registration
(770) 920-7213
Municipalities
City of Douglasville
www.ci.douglasville.ga.us
(770) 920-3000
Lithia Springs
Electricity
GreyStone Power Corporation
www.greystonepower.com
(770) 942-6576
Georgia Power
www.georgiapower.com
1.888.660.5890
Gas Companies
Austell Natural Gas System
www.austellgas.com
(770) 948-1841
Scana Energy
www.scanaenergy.com
(404) 760-6200
Gas South
www.gas-south.com
(770) 763-4681
Water and Sewer
Douglasville-Douglas County Water and Sewer Authority
www.ddcwsa.com
(770) 949-7617
Recycling
www.celebratedouglascounty.com
(770) 920-3133
Cable Television
Comcast
www.comcast.com
1-800-266-2278
Telephone
AT&T
www.att.com
(770) 577-1818
Cbeyond Communications
www.cbeyond.net
1-866-424-2600
EDUCATION
Public Schools
Douglas County School System
www.douglas.k12.ga.us
(770) 651-2050
Colleges
West Georgia Technical College-Douglas Campus
www.westgatech.edu
(770) 947-7200
HOSPITALS
Wellstar Douglas Hospital
www.wellstar.org
(770) 949-1500
LIBRARIES
Douglas County Public Library
www.celebratedouglascounty.com
(770) 920-7125
Lithia Springs Public Library
www.celebratedouglascounty.com
(770) 944-5931
NEWSPAPERS
Douglas County Sentinel
www.douglascountysentinel.com
https://atlantacommunityprofiles.com/wp-content/uploads/2020/12/banner1.png
0
0
admin
https://atlantacommunityprofiles.com/wp-content/uploads/2020/12/banner1.png
admin
2011-09-21 19:39:07
2023-01-06 23:15:00
Douglas County Information